2011 Retold Fairy Tales and Enchanted Cousins Reading Challenge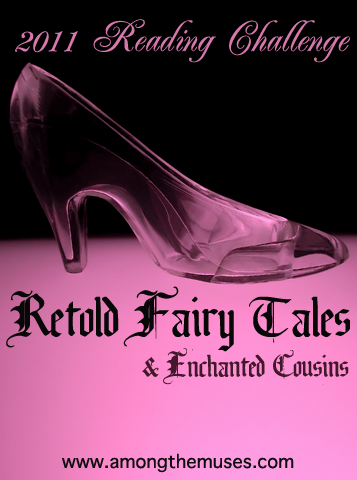 Challenge Objective:
To read stories that have taken classic fairy tales that we all know and love, and have woven them into a new alternative tale that mirrors the original.
Challenge Guidelines:
Challenge runs from January 1, 2011 - December 31, 2011.
You can join along in the fun at anytime during the year.
Create a post with the graphic that links back to this post! Sign up using Mr. Linky.
You do not need to select your books ahead of time. Just make sure that you have a list of them at the end of the challenge.
You can review on your own blog, or have a little fun and compare and contrast the book you read with a classic fairy tale!
**However, Reviews are NOT necessary!!**
Cross-overs with other challenges are welcome.
Retold fairy tales can span across any genre and sub-genre -- including YA (there's some great ones out there!) -- can be any length, and in any format.
The book MUST be fiction, and be a retold fairy tale.
You can change your challenge level at any time.
Can Non-Bloggers Join Along?:
Absolutely!! Just leave a comment with your book information and what you thought about it!
What's An Enchanted Cousin?
Because there is a lot of debate amongst what constitutes as a fairy tale (especially between countries), the challenge will also include any "cousins" of fairy tales, but MUST include fairy tale elements that traditionally represent a fairy tale notion.
Could you imagine the literary debates we could get in to over this?!? Therefore, I am not policing this, just use your best judgment! And have FUN!!!! :)That's what this is all about!
Sign up here at a
mong the muses
* No books added yet*